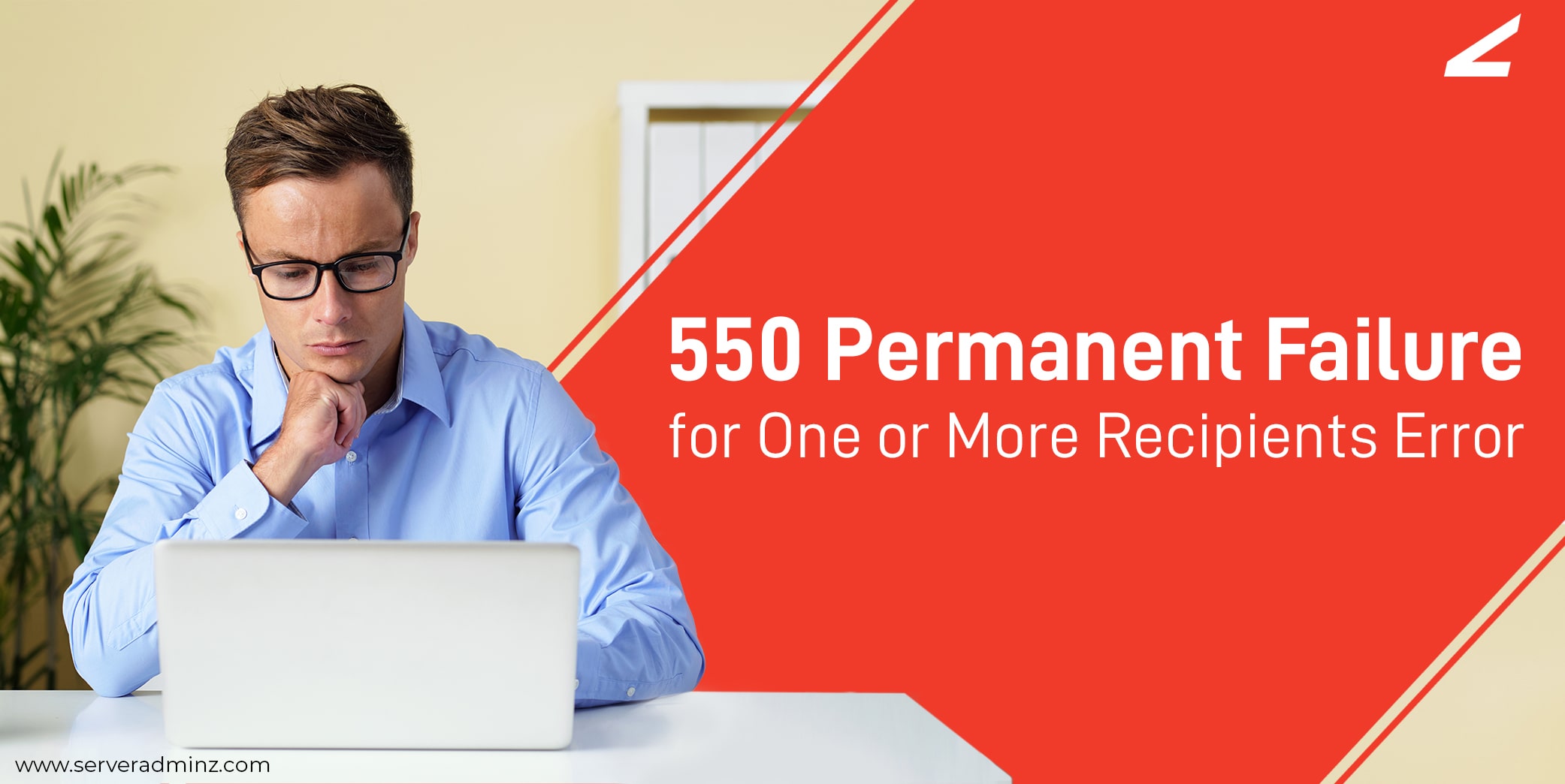 Being a leading server management and support service company, we have received lots of queries from our clients regarding the issue of 550 permanent failure for one or more recipients. This is an SMTP(Simple Mail Transfer Protocol) error code and hosting users get this error when the email hosting server of the recipient blocks the emails they send.
With this article, we will look into why the "550 permanent failure blocked" error appears and the possible ways to resolve the issue quickly.
What Causes the "550 Permanent Failure for One or More Recipients" Error?
550 Permanent failure blocked email issue is one of the most common errors hosting users may encounter. In this section, we are discussing some of the common causes for this error code to appear. They are:
When the recipient's email hosting server blocks your IP.

The email address of the recipient is not found or doesn't exist.

The recipient's email inbox is full and can't receive any more messages.

 Temporarily disabled recipient's email.

The hosting server labels your email as spam and blocks the mail.
In most cases, the reason for the error "550 permanent failure for one or more recipients" lies at the recipient's end. However, in certain situations, the reason can be on the sender's end as well.
Following the steps mentioned below will help you resolve issues on the sending side.
Related Article: Invalid cPanel License Error – How to Fix?
How to Fix 550 Permanent Failure Blocked Error?
Server IP Blacklisted by Recipient's Mail Server
If your server sends spam emails frequently, there are chances of the recipient's mail server blacklisting the mails coming from your server. Firstly, you have to know that there are lots of spam filtering companies that maintain a list of such servers that are sending spam emails regularly.
So, if you get a "550 permanent failure for one or more recipients" error, the first thing you have to do is to confirm whether your server IP has been blacklisted or not. Moreover, there are lots of tools available that can help you with spam blacklist checks. You might figure out who has been sending spam emails using the IP if your IP is blacklisted.
If you are using a shared server, someone else on your shared service can send spam emails that result in the blacklisting of your IP address.  On the other hand, if you are using a dedicated VPS service, there are chances that someone might have hacked your VPS and have started sending spam emails.
A Sender Policy Framework (SPF) record is defined as a DNS TXT record that specifies the email servers that can send an email for your domain. Many email hosting servers use Security Policy Framework to ensure the authenticity of the sender's email. Having a bad domain SPF record can make recipients email hosting servers treat your email as spam and reject them.
To get the SPF record for your domain, visit Google Admin Toolbox and type in your domain name.  In the results obtained, check for the SPF record which begins with "v=spf1". It is advised that you should make the necessary corrections to the SPF record if there is an issue. You can visit Dmarcian's page, to know about SPF Record Syntax in detail. Having a valid SPF record will help improve the authenticity of your email and improve its deliverability.
If you need any assistance in getting the issue fixed, you can get in touch with our technical support team. We are available 24/7 to offer server support services to our customers at an affordable price.
Related Article: Steps to Troubleshoot "Google Cloud SQL Access Denied for User" Error
Wrapping Up
This article helps you understand the reasons that cause the "550 permanent failure for one or more recipients" error. The blog explains, different possible methods to fix the issue. This error is quite common and can mostly be related to Server IP being blacklisted by the recipient email server. To identify the issue and get it resolved, follow the troubleshooting steps mentioned in the blog.
However, if you are still finding it challenging to fix it, feel free to get in touch with us. We have an expert team of server administrators who offer reliable server support services to customers all over the world.